Foreign Affairs Office of Sichuan Province Update on the Epidemic of Novel Coronavirus Disease (COVI
录入时间:2020-03-14 20:13:00 点击: 次
---
据省卫生健康委发布信息,3月12日,我省无新增新型冠状病毒感染的肺炎病例,新增治愈出院病例6例,无新增疑似病例,无新增死亡病例。截至3月13日0时,我省累计报告确诊病例539例,涉及21个市(州)。
正在住院隔离治疗36人,死亡3人,治愈出院500人,现有疑似病例0例,正在接受医学观察338人。
未发现外国人在川感染新型冠状病毒的病例。
全省现有无现症病例区〔低风险县(市、区)〕153个、散发病例区〔中风险县(市、区)〕30个、无社区暴发和局部流行区〔高风险县(市、区)〕。
(一)成都口岸入境境外人员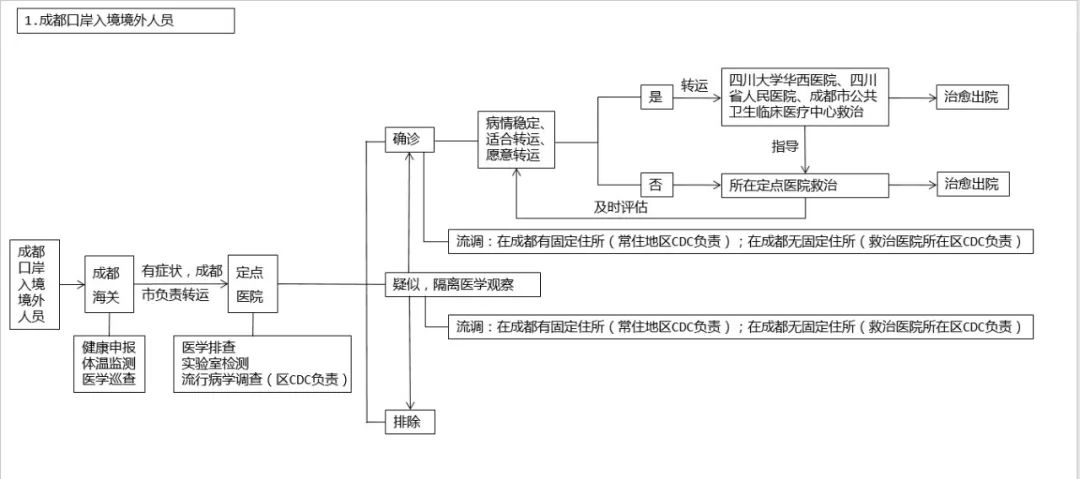 (二)成都市境外人员

(三)成都市外市(州)境外人员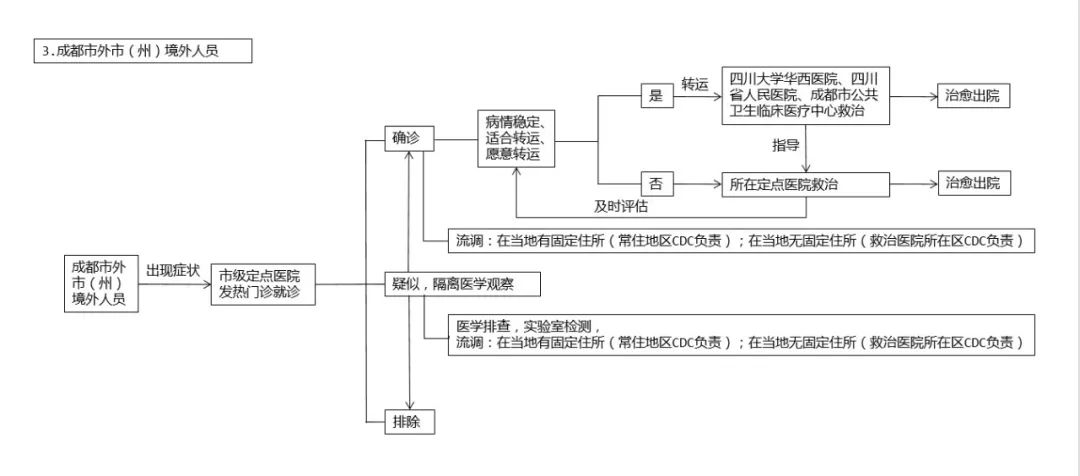 Foreign Affairs Office of Sichuan Province
Update on the Epidemic of
Novel Coronavirus Disease (COVID-19) in Sichuan Province
I. Briefing on the epidemic
Latest updates by the Health Commission of Sichuan Province:
No new case of novel coronavirus disease was confirmed in Sichuan Province, with no new suspected case and no new fatal case, while 6 patients have been newly cured and discharged from hospital on Mar. 12th. As of 00:00 of Mar. 13th, 539 cases have been reported in 21 municipalities (prefectures) of Sichuan Province accumulatively.
At present, there are 36 under treatment in isolation, 3 fatal cases, and 500 patients have been discharged from hospital after recovery. Of the traced close contacts, there is no suspected case, 338 are still under medical observation on Mar. 10th.
No foreigner has been confirmed infected COVID-19 in Sichuan.
There are currently 153 COVID-19 free areas (low-risk counties, cities or districts), 30 sporadic COVID-19 cases areas (medium-risk counties, cities or districts), and no community-wide outbreak area or endemic area (high-risk counties, cities or districts)
II. Flow chart of hospital treatment for COVID-19
i. Flow chart of medical treatment for COVID-19 of personnel entering at Chengdu port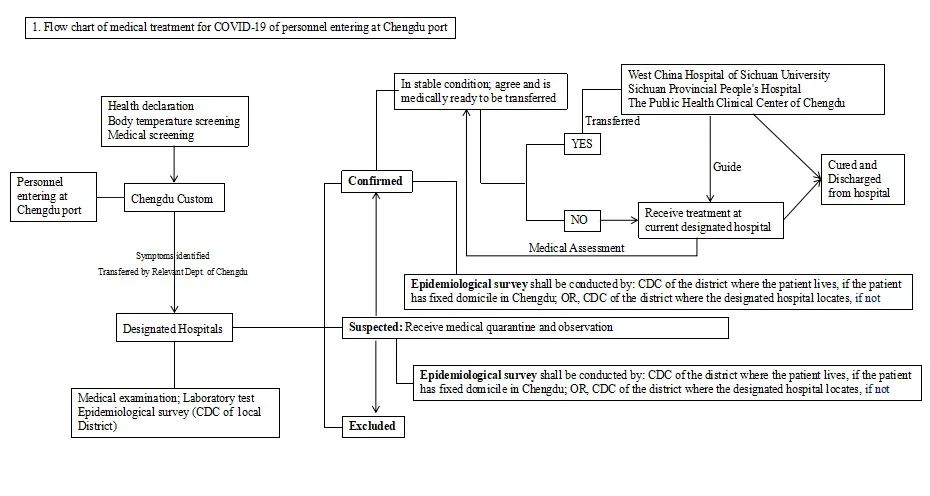 ii. Flow chart of medical treatment for COVID-19 (for Foreign Nationals in Chengdu)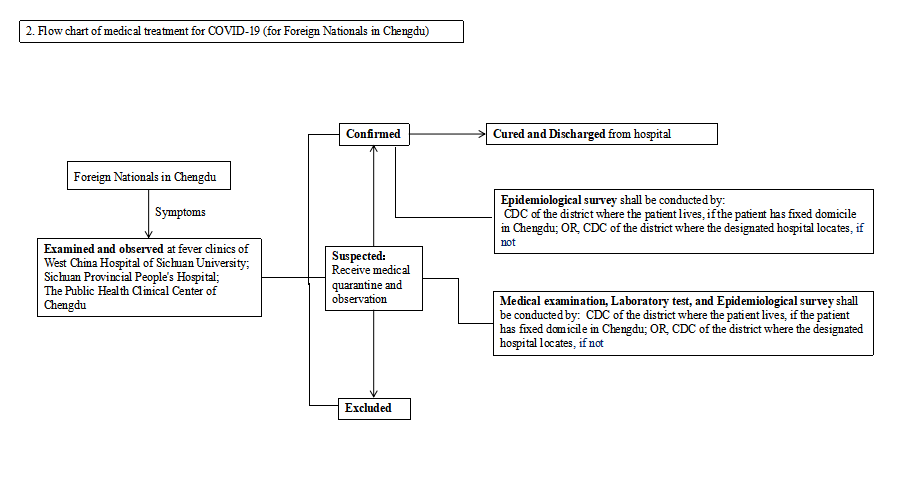 iii. Flow chart of medical treatment for COVID-19 (for Foreign Nationals in Sichuan except Chengdu)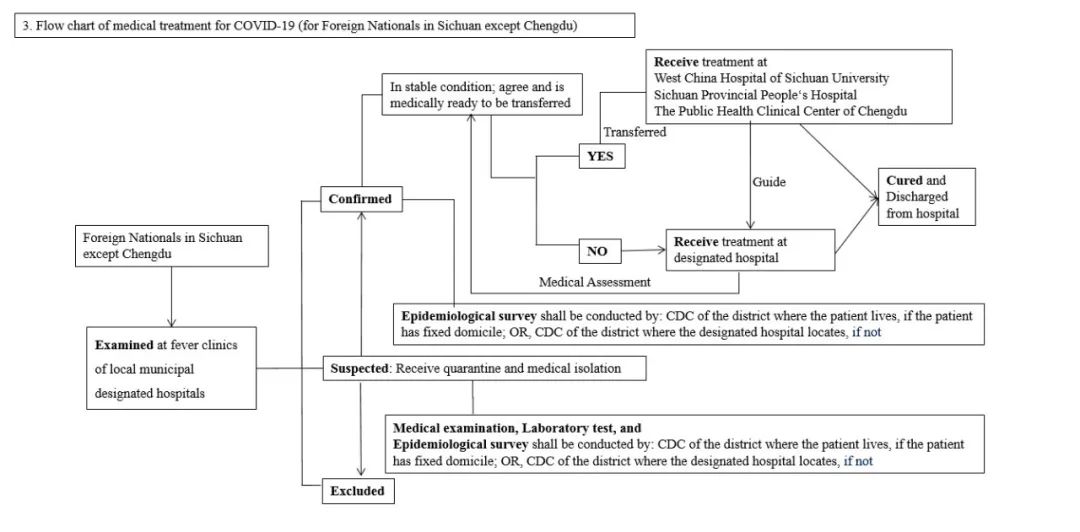 四川省衛生健康委員会の発表により、3月12日に本省が新たに確認した感染者がいなく、新たに完治退院した患者は6名、新たな疑われる症例と死亡例はない。3月13日0時まで、本省が確認した感染者は累計539名で、21の市と州に分布している。
現在病院で隔離治療を受けている患者数は36名、死亡は3名、完治退院したのは500名、疑われる症例がなく、医学観察を受けている人数は338名である。
本省において外国人の感染確定例はいない。
四川省は現在、「無発病症例区」(軽度リスク県<市、区>)が153区あり、「散在発病区」(中度リスク県<市、区>)が30区あり、「コミュニティ爆発区」と「局地流行区」(ハイリスク県<市、区>)がない。
(一)成都から入国する人員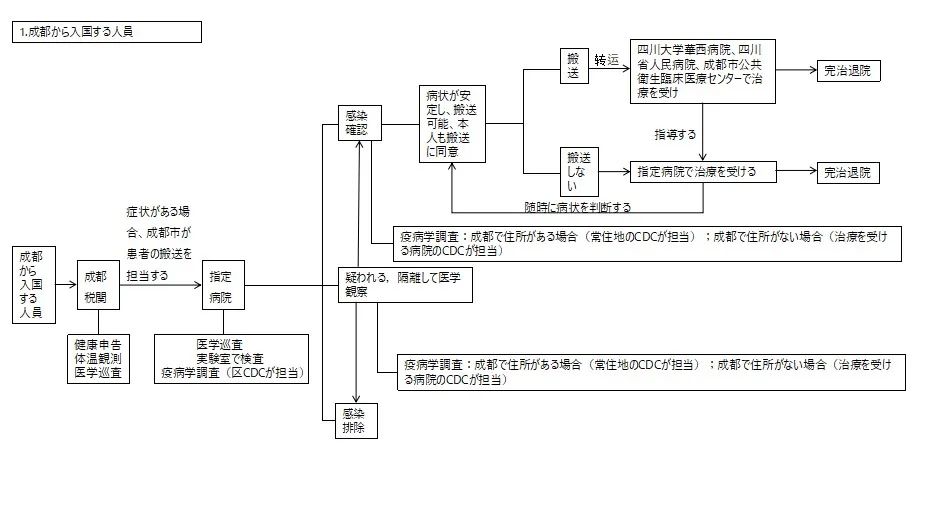 (二)成都市にいる外国人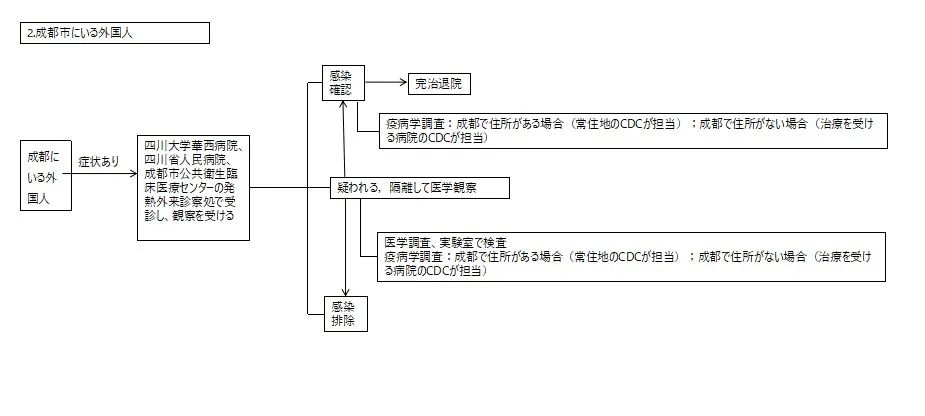 (三)成都市以外の各市(州)にいる外国人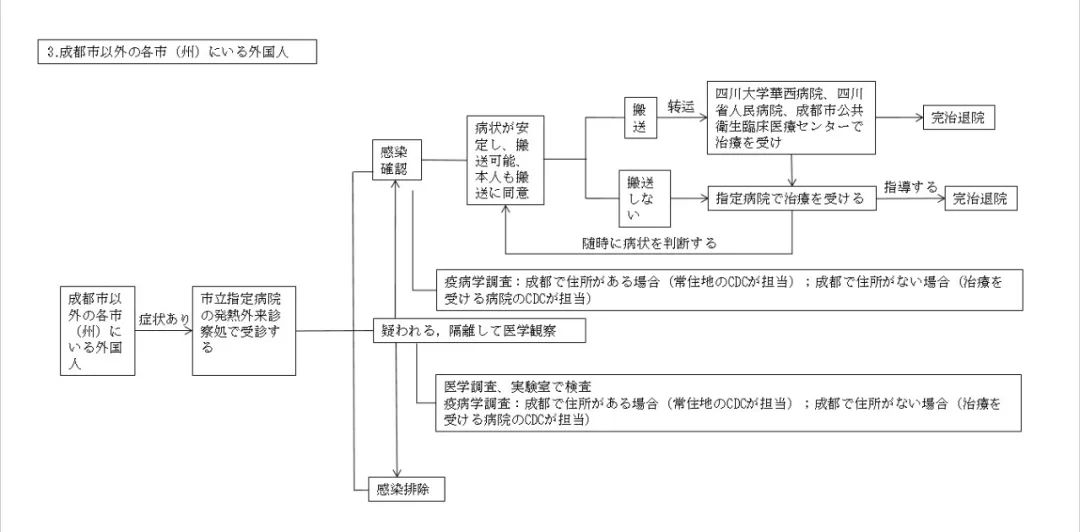 本文来源:四川外事
上一篇:The LOCKDOWN -ONE MONTH IN WUHAN
下一篇:WHO Director-General's opening remarks at the media briefing on COVID-19 - 11 March 2020